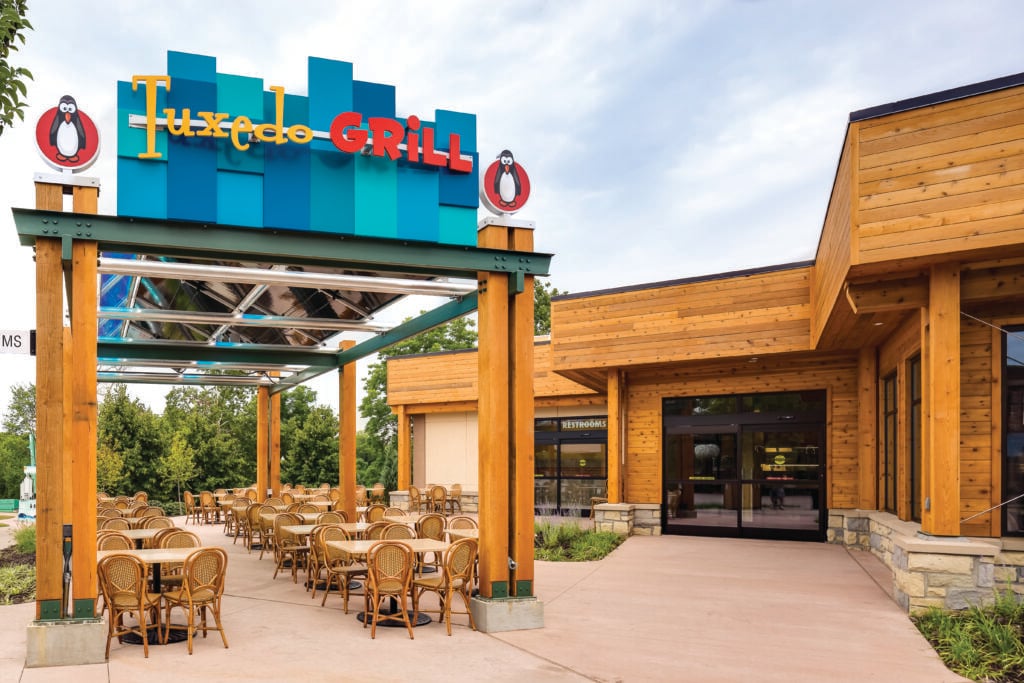 Kansas City Zoo Cafe: Dressing Up the Tuxedo Grill on a Budget
DETAILS
PROJECT:
Tuxedo Grill at Kansas City Zoo Cafe
In October 2013, the Kansas City Zoo opened a new penguin exhibit. Shortly before the exhibit opened, the Zoo also decided to renovate the nearby restaurant—the park's main eating facility. The project went out to bid, and the environmentally friendly design of the Kansas City-based McCownGordon Construction was eventually selected. McCownGordon began designing the 7,300 square-foot café, renamed the Tuxedo Grill, in the summer of 2013, and construction started that fall. Its design incorporated many sustainable building practices and included natural elements such as bamboo and exposed wood. Steven Crosley, senior project engineer at McCownGordon, said they wanted a roof with an exposed look, so they chose 40-inch deep RedBuilt™ Red-H™ open-web trusses.
"The trusses fit perfectly with the building's natural theme. And RedBuilt even matched the panels in each bay to keep the visual appearance consistent."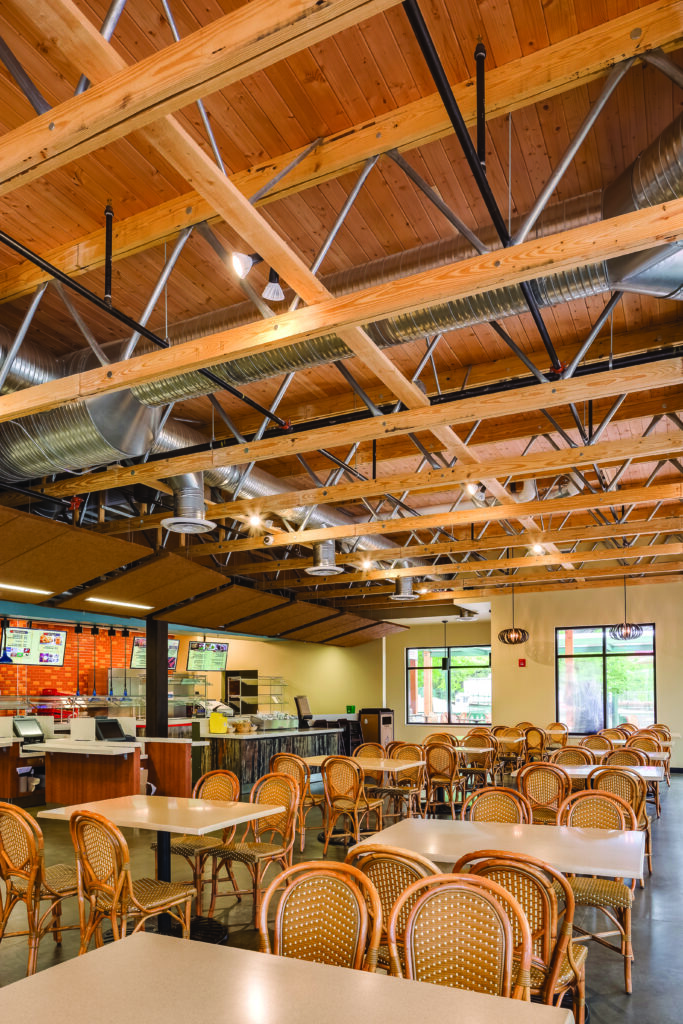 Aesthetics, however, weren't the only thing the RedBuilt team helped Crosley and McCownGordon accomplish. Wayne Hess, structural engineer at the Kansas City-based Leigh & O'Kane, the engineering company involved with the project, said the ingenuity of RedBuilt's team also helped prevent cost overruns.
Hess said the team designing the café had to make multiple changes after much of the design had been completed, including alterations to floor plans, materials and mechanical equipment. "Some of these adjustments caused changes to the roof load," he said. "But RedBuilt helped us keep the original trusses by manipulating the spacing so they had adequate capacity for the reconfigured loads. And since we didn't have to replace the trusses, we were able to stay within budget."
According to Hess, the trusses were also chosen based on their ability to route mechanical piping and ductwork. The depth of the truss offered wider spacing in many locations, allowing ductwork to pass without interrupting the structure of the building, he said.
Two sections of the roof called for short trusses, which couldn't be produced in the Red-H series. RedBuilt solved this problem by using RedLam™ LVL for the shorter sections.
The café is now open for business, and Crosley anticipates the building will achieve LEED status in the near future.
Founded in 1909, the 200-acre Kansas City Zoo is home to more than 1,300 animals. It recently added two critically endangered Sumatran tigers to its collection. Fewer than 250 of these tigers are believed to exist in the wild.
Each year, the Zoo receives about 400,000 visitors. And soon, when they stop by the penguin exhibit, the choice of where to eat will be black and white, but won't require tuxedo attire.
CREDITS
General Contractor
McCownGordon Construction
Kansas City, Missouri
Engineer
Leigh & O'Kane
Kansas City, Missouri