Solving Site Building Height Issues
DETAILS
PROJECT:
Desert Mountain Residence
Back in 1998, a successful entrepreneur from the Midwest bought land to build his dream home in Desert Mountain—a golf community in sunny Scottsdale, Arizona. Sixteen years and a few obstacles later, his 11,000 square-foot home is now a reality.
In 2012, architects at Scottsdale-based H&S International began designing the home. After H&S put the project out to bid, the owners selected the team at the Carefree, Arizona-based Manship Builders to build their residence. Eventually, Manship selected RedBuilt™ to provide a variety of Red-L™ open-web trusses for the home. In the residence's main living area, the Manship crew created a large vaulted ceiling with Red-L™ barrel trusses.
"The roof design called for an arch that required recessed lighting, 12 inches of insulation and room for other mechanical lines. RedBuilt's Red-L barrel truss was the only product we could find that filled that requirement."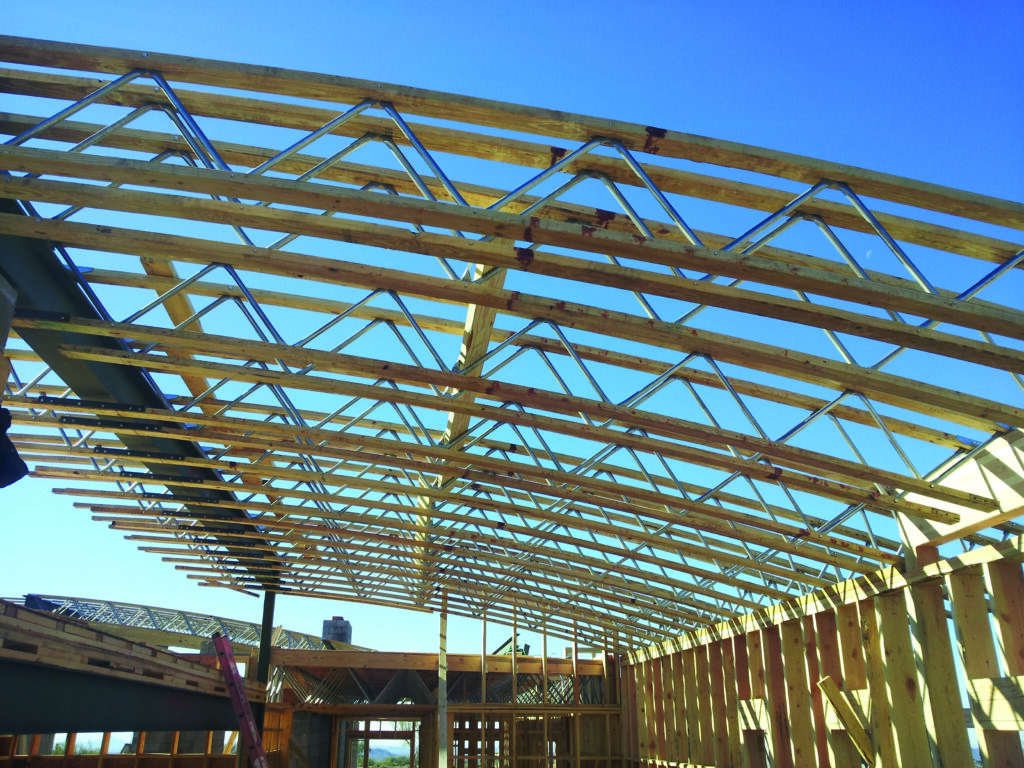 Although the roof came together smoothly during the framing stage, the shop drawing phase was a different matter. Part way in, the team discovered that the roof, as planned, would exceed neighborhood height restrictions. And in Desert Mountain, a community with highly coveted million-dollar vistas, obstructing a neighbor's view is not an option. By identifying the problem at this stage, and without altering the integrity of the design, the RedBuilt team changed the radius of the barrel truss and redesigned the bearing detail to keep the roof at an acceptable height.
The RedBuilt team also helped train Manship's framing crew prior to installing the trusses. Because they had never used RedBuilt open-web trusses, RedBuilt Technical Representative Steve Smith provided a training session using a sample truss. He showed the team how to properly install products and provided a variety of helpful tips. He also met with the framing crew when the trusses were delivered onsite to review job-specific details.
"Once we had the trusses, the crew completed framing and rough carpentry within 70 days—an impressive amount of time for a custom home of this size."
CREDITS
GENERAL CONTRACTOR + FRAMER
Manship Builders
Carefree, Arizona
ENGINEER + ARCHITECT
H&S International
Scottsdale, Arizona