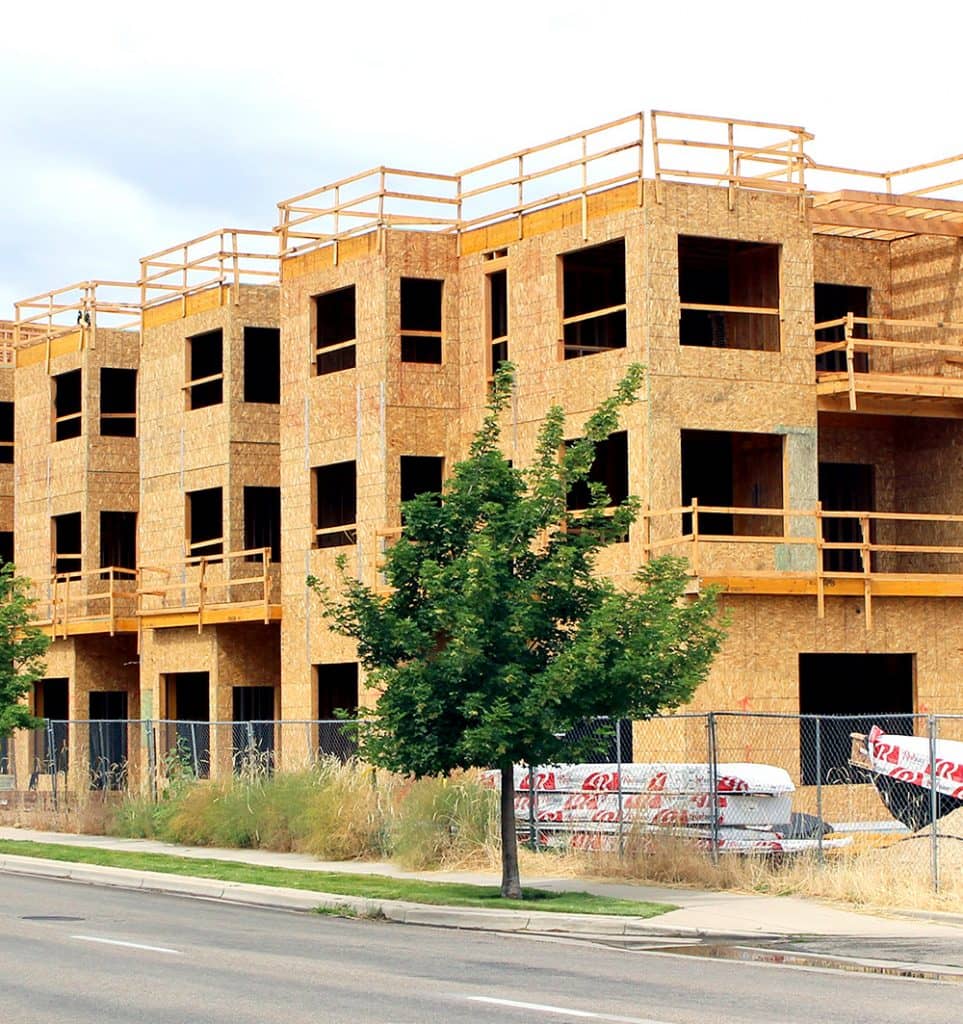 Creating an All-Wood, Mixed-Use, Mid-Rise Structure
When Glenn Levie of the Encino, California-based Levie Development and Architectural Group decided to build in Boise, Idaho, he didn't follow in the footsteps of developers who were creating separate commercial and residential buildings on the outskirts of town. He built a mixed-use structure in downtown Boise with everything under one roof.
Planning for Levie's four-story building, called The 951 (the structure's address), finished in the fall of 2013 and site work started soon after.
Overall, The 951 is made up of 74,500 square feet of mixed-use space. Around 4,100 square feet designated for retail use on the first level with the rest dedicated to the 68 apartments on the upper floors. Seven of those apartments are two-story units, combining a street-level workspace with private stairs leading to the living quarters above.

Early on, RedBuilt representatives met with contractor/estimator Roy Jackson from the Eagle, Idaho-based Steed Construction, and engineer Craig Brasher from the Boise-based AHJ Engineers to develop an engineered wood structural solution unique to the building's requirements.
Levie says preplanning helped save the team time, money and significantly improved the overall process. They had to make special considerations for the all-wood structure. When buildings reach four or more stories, lateral forces from wind and seismic events create heightened design challenges for connecting the structure to the foundation. High-strength 2.0E RedLam™ LVL provided an answer and large hold-down anchors were embedded into the foundation and bolted to the RedLam LVL. RedBuilt engineered wood provides strength and reliability in critical connection locations such as these because its wood fiber is so consistent.
Additionally, since Red-I™ joists, RedLam™ rim board, and RedLam™ beams come off the press with a low moisture content (compared to solid sawn lumber), the use of RedBuilt engineered wood products decreased the amount of expected wood shrinkage for The 951.
The 951's main level has a different use than the upper floors, requiring walls to be jogged and open space provided in the interior. Loads need to be concentrated into beams and transferred to columns and walls that do not align with the walls above.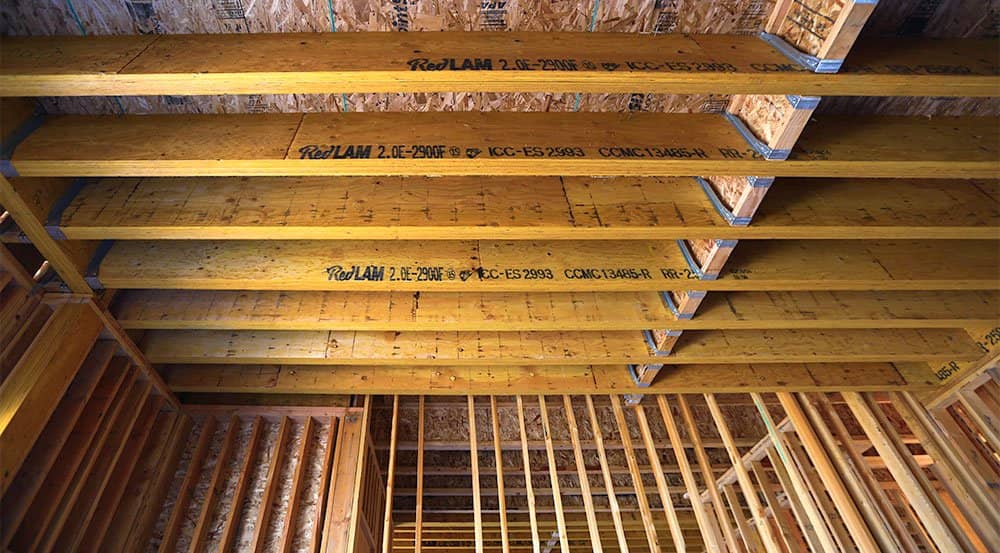 "RedBuilt helped us provide the ceiling room needed for the large beams, re-route the ducting due to tight joist spacing in certain areas, and add large columns in the floor space," Brasher said. "They had the products we needed to frame intelligently, keep costs down and move the project along at a good pace."
Another unique development RedBuilt proposed was to redesign the original second, third and fourth-level floor systems into a more stout system at 24″ on-center spacing between joists (instead of the typical 16″ on-center). By switching to a joist series with a greater flange width, the team was able to achieve the required fire rating and eliminate the need for two layers of gypsum board.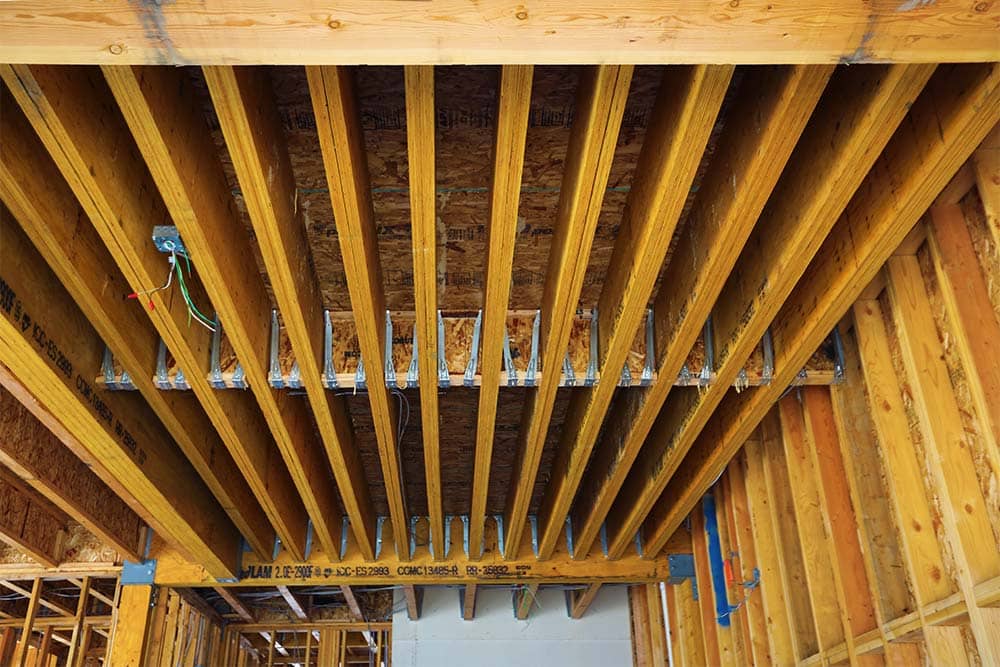 "RedBuilt suggested we change to a higher series joist that had the required width and greater capacity," Brasher said. "This provided a solution for the fire rating and reduced the number of pieces to be placed in framing."
According to Levie, around 70,000 square feet of The 951 is made up of RedBuilt products.
Specific RedBuilt products included in 951 Park
Learn more about each of the specified products in the project below:
Redlam™ 2.0E LVL

Columns on the first and second floor
Tall wall studs in the center entry
Beams and headers on all floors and roof window openings
Stringers on all stairs

16″ Red-I90™ I-joist second, third and fourth floor framing system
14″ Red-I90™ I-joist roof framing system
Glulam beams on first floor retail areas provided by RedBuilt as a third-party product
"Throughout the entire process, RedBuilt has been hands-on and helped us deal with unforeseen issues before they became problematic," Brasher said. "We knew if we had questions in the field our sales rep would be there to help. RedBuilt not only has great quality products, but also the customer service to back it up."
"Throughout the entire process, RedBuilt has been hands-on and helped us deal with unforeseen issues before they became problematic."
CREDITS
Developer
Levie Development Group, LLC
Encino, California
GENERAL CONTRACTOR
Steed Construction
Eagle, Idaho
ENGINEER
AHJ Engineers
Boise, Idaho
DESIGN ARCHITECT
Levie Architectural Group, PLLC
Encino, California
ARCHITECT ADMINISTRATING
DG Group Architecture, PLLC
Eagle, Idaho
Installing exposed trusses and solving a skylight dilemma
When the team at Worman Resources Inc., a development and construction company in Kelowna, British Columbia, started designing a two-story, mixed-use building in a trendy neighborhood in Kelowna's South Pandosy District, they knew they wanted to include exposed trusses.
VIEW MORE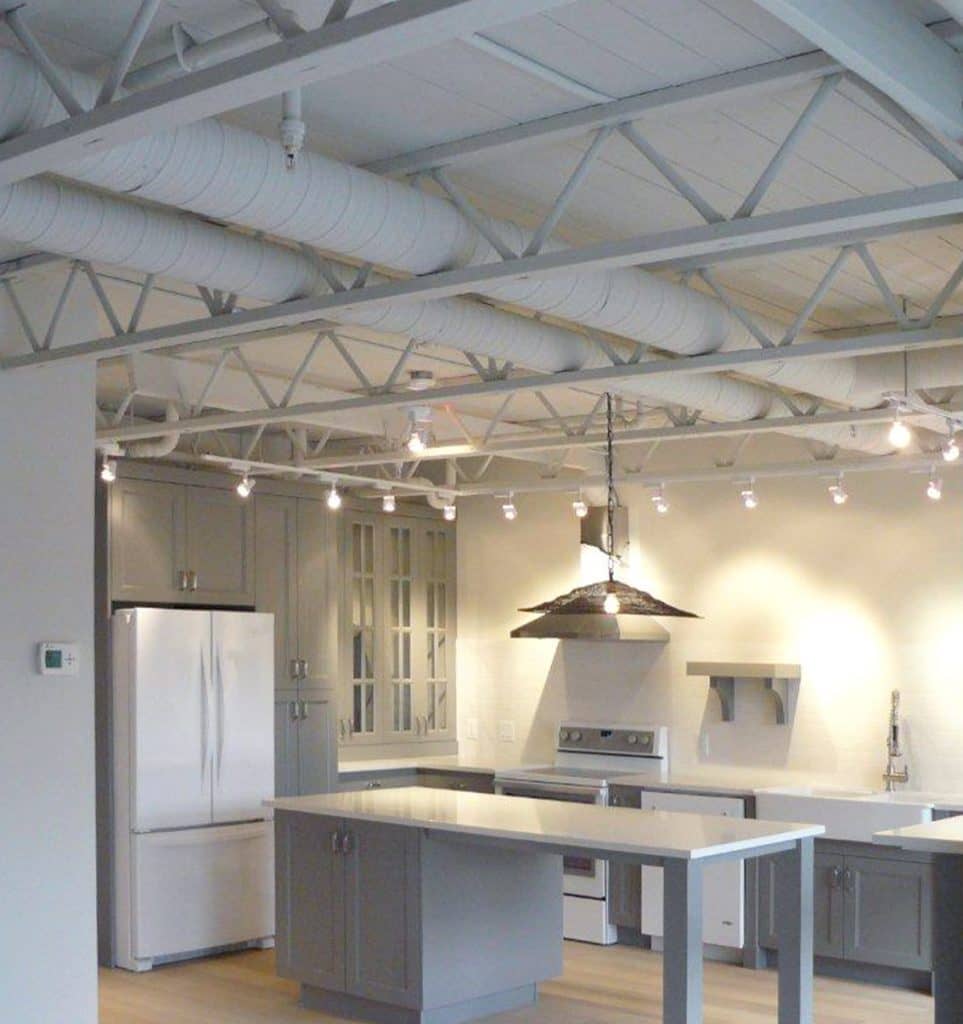 How RedBuilt roof trusses helped support Utah businesses
Read about how RedBuilt roof trusses and structural reveals were used in 106 Exchange, a 60,442 square foot professional office space that now stands in South Jordan, Utah. Through hands-on, knowledgeable customer care, as well as close collaboration, a space was created true to the architects' vision using RedBuilt roof trusses.
VIEW MORE