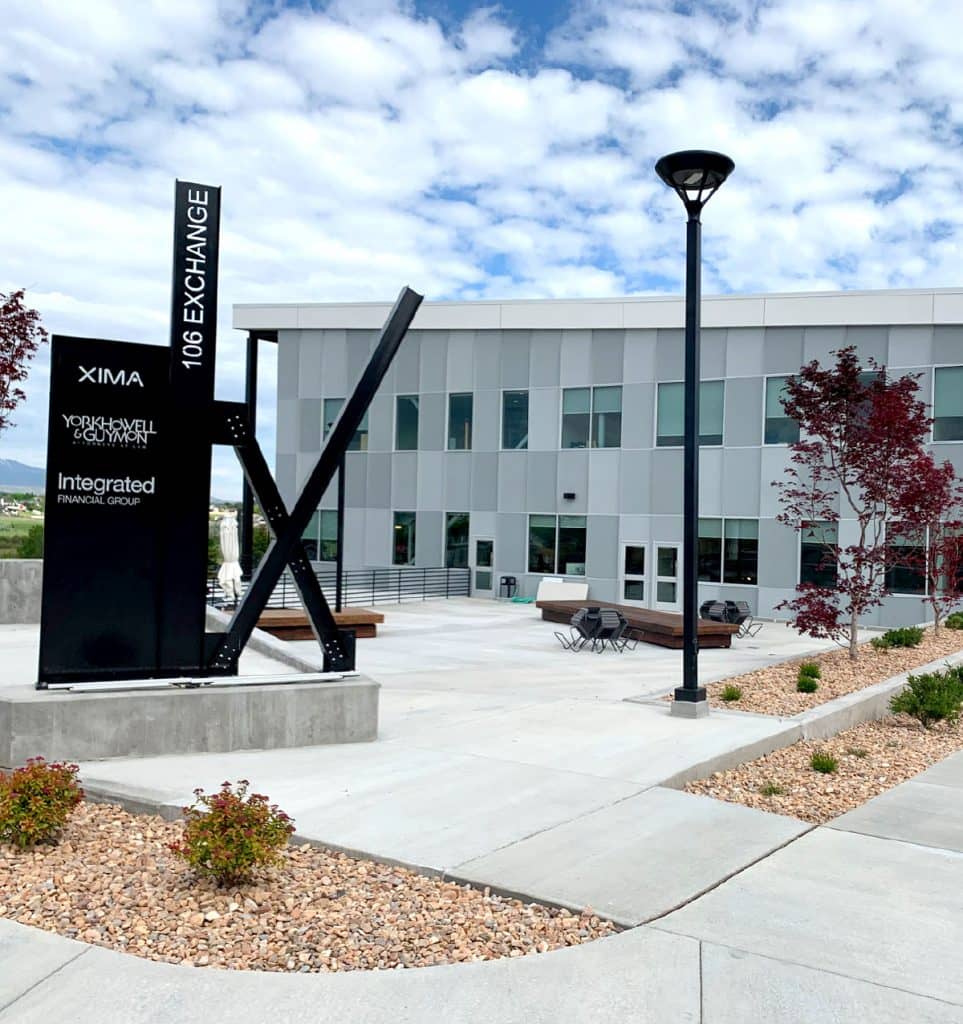 How RedBuilt roof trusses helped support Utah businesses
Complimentary design consultation solved key concerns early in the project
There tends to be a balancing act between visual appeal and budgetary restraint. That's as true in architectural design as it is in any other craft. 
That balance spurred discussion when Raw Design Studio, Thrive Development, and Mint Construction, engaged RedBuilt in 2017 and 2018 for what would soon become 106 Exchange, a 60,442 square foot professional office space that now stands in South Jordan, Utah just off the I-15 corridor.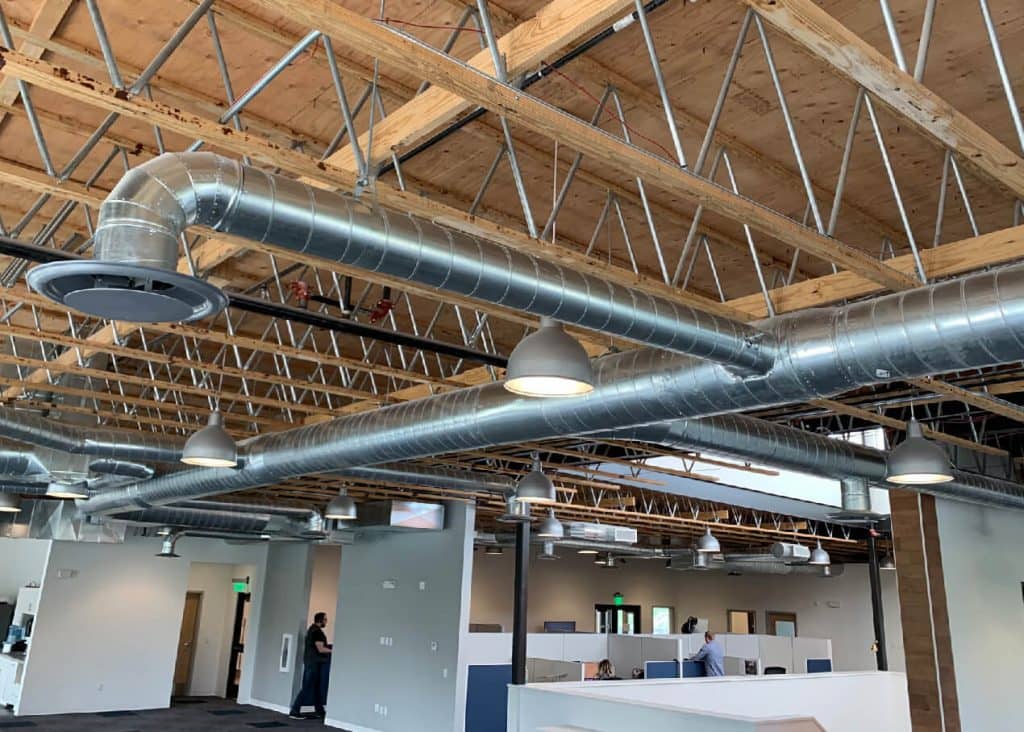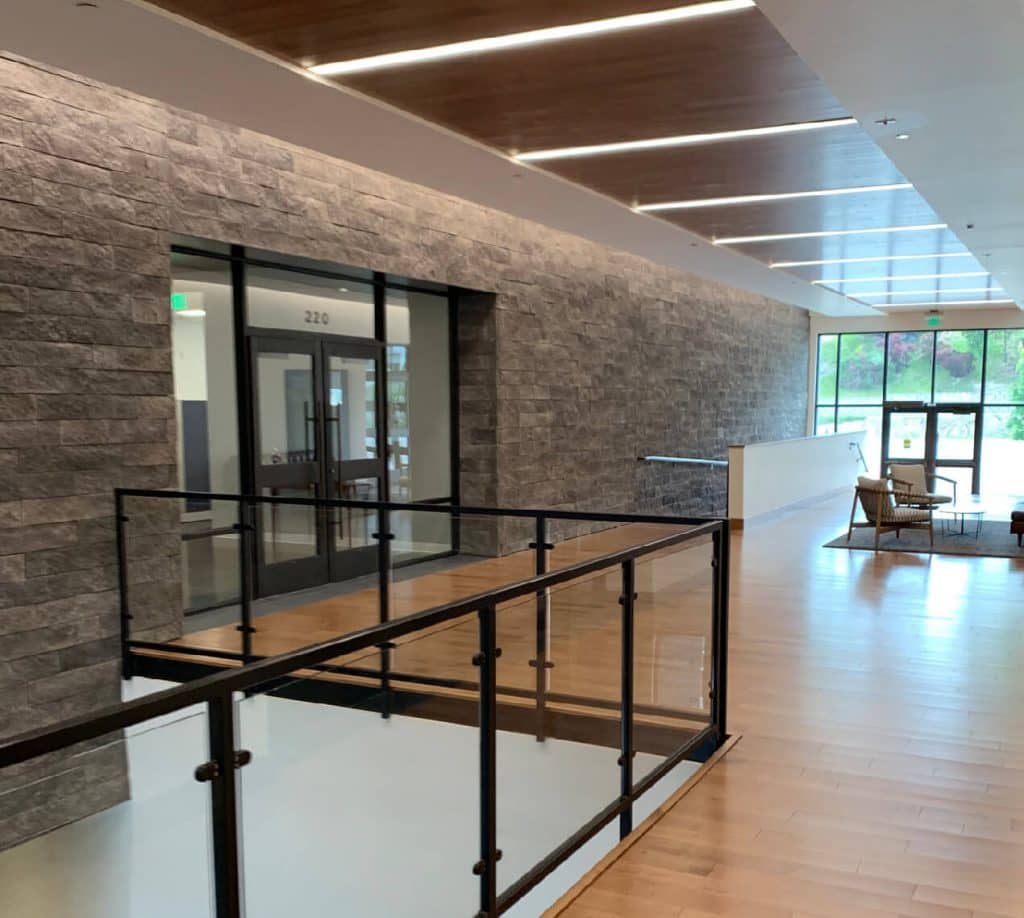 Through hands-on, knowledgeable customer care, as well as close collaboration, a space was created true to the architects' vision — open, warm, and welcoming for employees and clients. Exposed RedBuilt roof trusses and structural reveals around the premises showed off the juxtaposition of different building materials.
But what was happening during those months of conversation?
RedBuilt service starts far before you place a structural wood order 
No matter the size of the client or order, RedBuilt technical sales representatives collaborate with designers and engineers to specify, budget, and provide input on how engineered structural wood can help realize their creative vision within the project's constraints.
For 106 Exchange, the design and build team involved the local RedBuilt Technical Representative early in the project before a structural engineer was selected, to provide multiple budgetary framing solutions and discuss possible options.
The team looked at roughly four initial concepts. Red-I joists and Red-W open-web trusses were considered for the floors and both Red-L and Red-S open web trusses were considered in the roof system.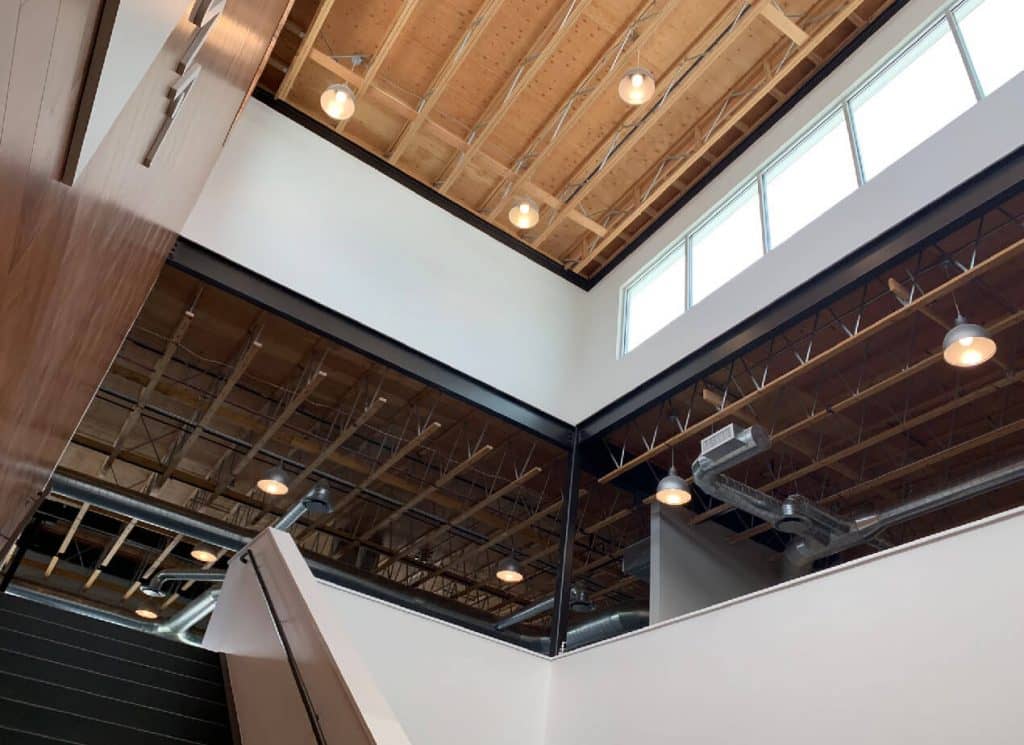 The budget for the joists and trusses played a significant role in the final decision, but the aesthetics of the interior had an equal weight.
"The look often plays a big part in the final decision," Wilson said. "The Red-S roof trusses are made with continuous double LVL chords that had a different aesthetic appeal than the Red-L or Red-W." 
The team also compared the visual differences between the Red-S and Red-M offerings. The Red-M features MSR lumber and the Red-S features laminated veneer lumber (LVL).
By providing different options, RedBuilt clients have the creative freedom to make a solid decision that is in line with the architect's vision and project requirements.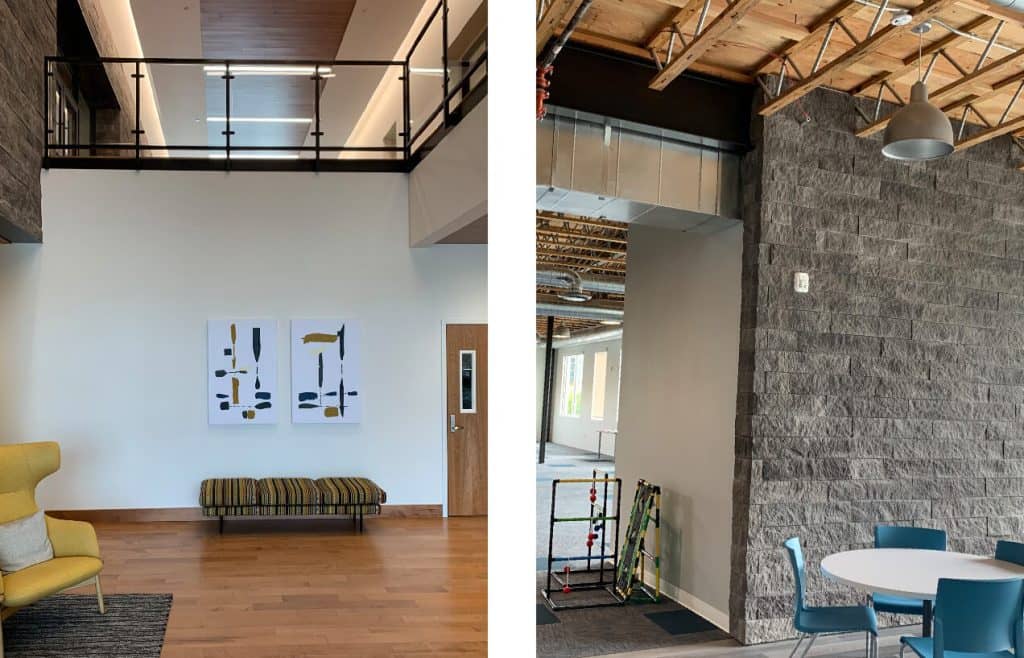 The final decision came down to a few key product categories on the floor and roof: 
"On the third floor, we utilized mostly 26" Red-I65 and I90's at 16oc to achieve a first-rate office floor even with floor spans up to 30' and over 130 PSF of total load in some areas," Wilson said. "These products offered a high floor performance rating and are more economical per square foot, so it's a win-win for floor systems that are not exposed to view and have no ductwork passing through them."
"On the roof, the design included tapered Red-L's at 32"oc, which allowed mechanical chases to pass through the on-center spacing without requiring headers," Wilson said. "The Red-L tapered truss created the roof drainage without the use of costly tapered insulation. The exposed Red-L's were critical to the architects vision for the look and feel of the space. The office space turned out both aesthetically pleasing and economical so the architect, builder and owner were excited about the results."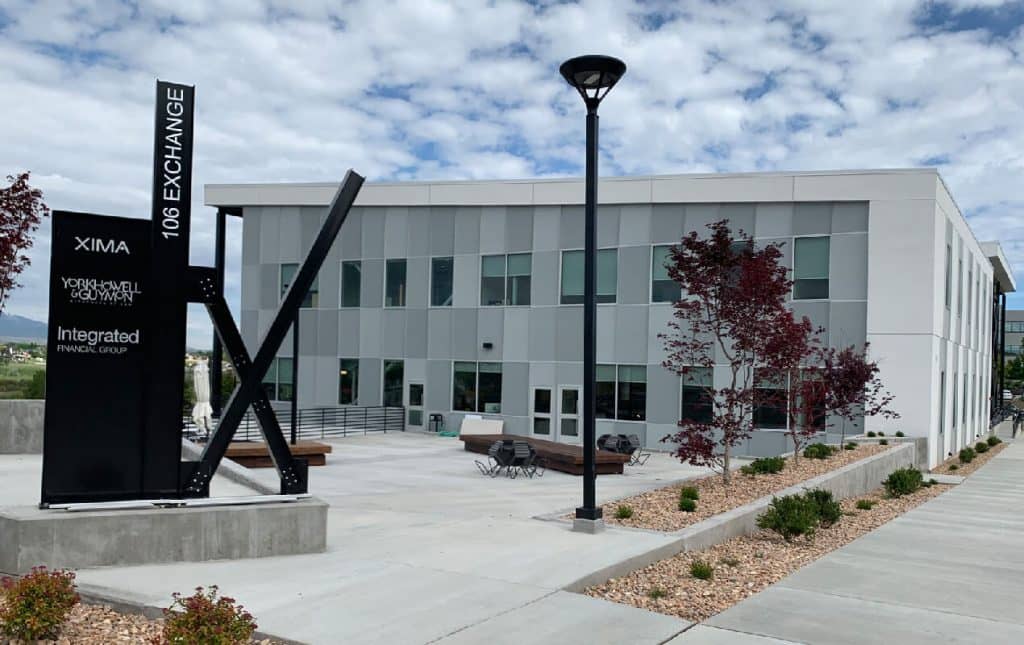 RedBuilt offers more than roof trusses
The structure was completed in early 2019, providing space for high-end clients in health, financial, and software companies. 
"RedBuilt works with design and build teams to provide structural wood solutions that satisfy budgetary requirements, creative vision, and customer needs," Wilson said. "We provide input at project conception — sometimes years in advance — to plan the most effective and efficient systems."
Do you have a project in the works? Your local RedBuilt Technical Sales Representatives are always an email, text, or call away to discuss any questions you may have. Look up your representative by zip code or speak with an industrial representative.
Specific RedBuilt products included in 106 Exchange
Learn more about each of the specified products in the project below:
Red-S Open-Web Trusses
Tapered Red-L Open-Web Trusses
Red-I65 Joists
RedLam LVL Beams and Headers
CREDITS
ENGINEER
Ensign, BHB, Olsen & Peterson, BNA
Installing exposed trusses and solving a skylight dilemma
When the team at Worman Resources Inc., a development and construction company in Kelowna, British Columbia, started designing a two-story, mixed-use building in a trendy neighborhood in Kelowna's South Pandosy District, they knew they wanted to include exposed trusses.
VIEW MORE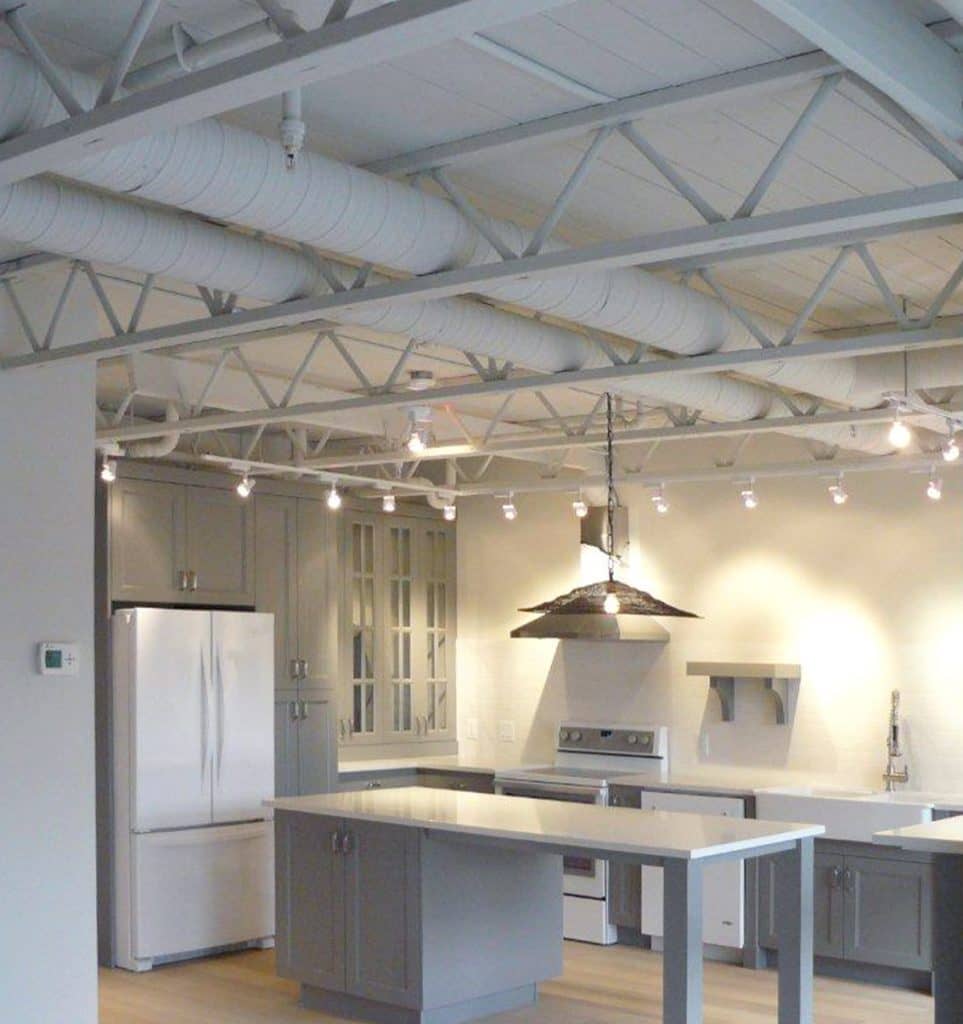 X-Shaped School Creates Unique Framing Challenges
The architectural vision provided by Hacker Architects created a unique-shaped building set together with complex angles. Wood was selected for its economical benefits, along with the desire for aesthetic appeal with exposed material.
VIEW MORE