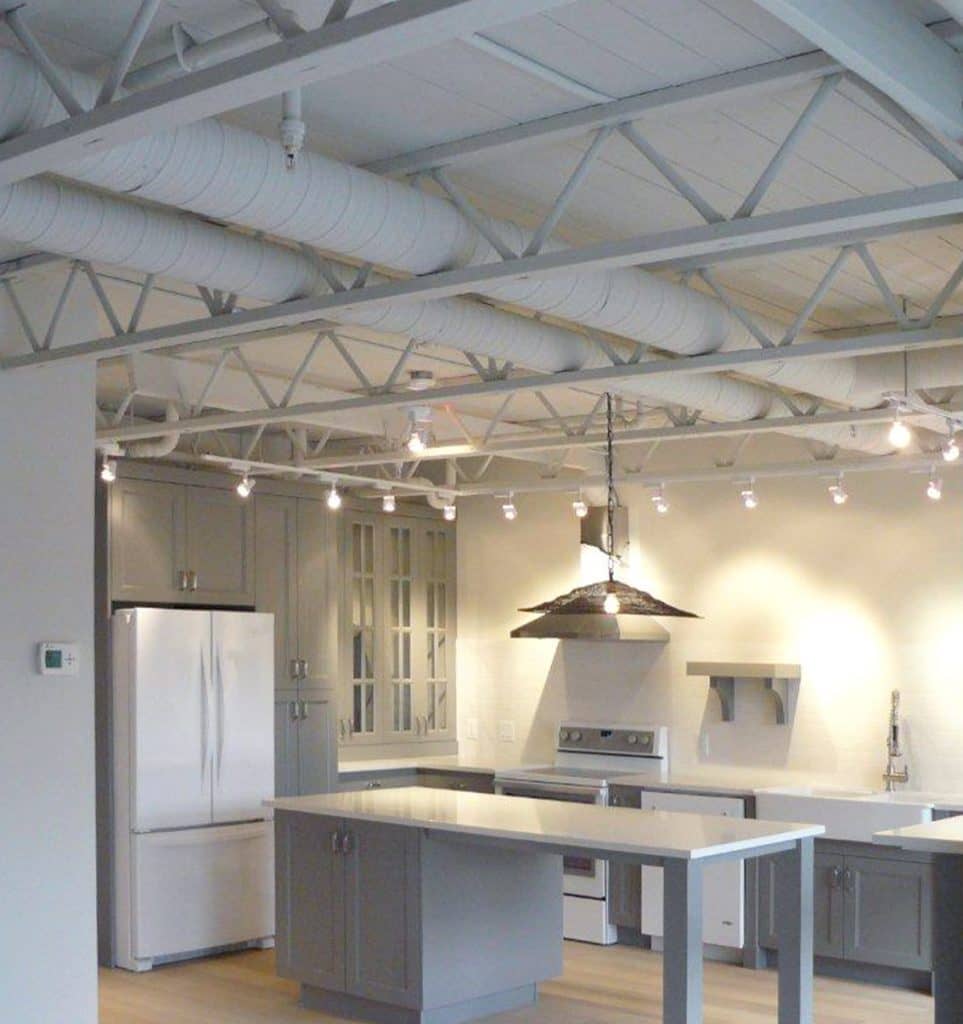 Installing exposed trusses and solving a skylight dilemma
DETAILS
LOCATION
Kelowna, British Columbia, Canada
When the team at Worman Resources Inc., a development and construction company in Kelowna, British Columbia, started designing a two-story, mixed-use building in a trendy neighborhood in Kelowna's South Pandosy District, they knew they wanted to include exposed trusses.
Because they'd used RedBuilt trusses on many of their commercial, residential and mixed-use projects since 2010, choosing RedBuilt for this building was a no-brainer.
"We like the look of the trusses as an 'unfinished piece' within our buildings," said Shane Worman, owner of Worman Resources. "We wanted the Richter project to have a more open loft feel. We like the combination of steel and wood and the aesthetic that brings to the building."
Worman's team used RedBuilt™ Red-M™ open-web trusses at 48' on-center for the roof of the commercial portion of the building, and Red-I™ joists at 16' on-center for the roof over the stairs. They installed Red-L™ open-web trusses at 48' on-center for the floor and roof over the building's residential section.
"All the RedBuilt trusses are exposed along with all the mechanical ducting, sprinklers and electrical conduits," said Worman. "We can get great spans out of them and run HVAC between trusses that we just can't accommodate with I-joists."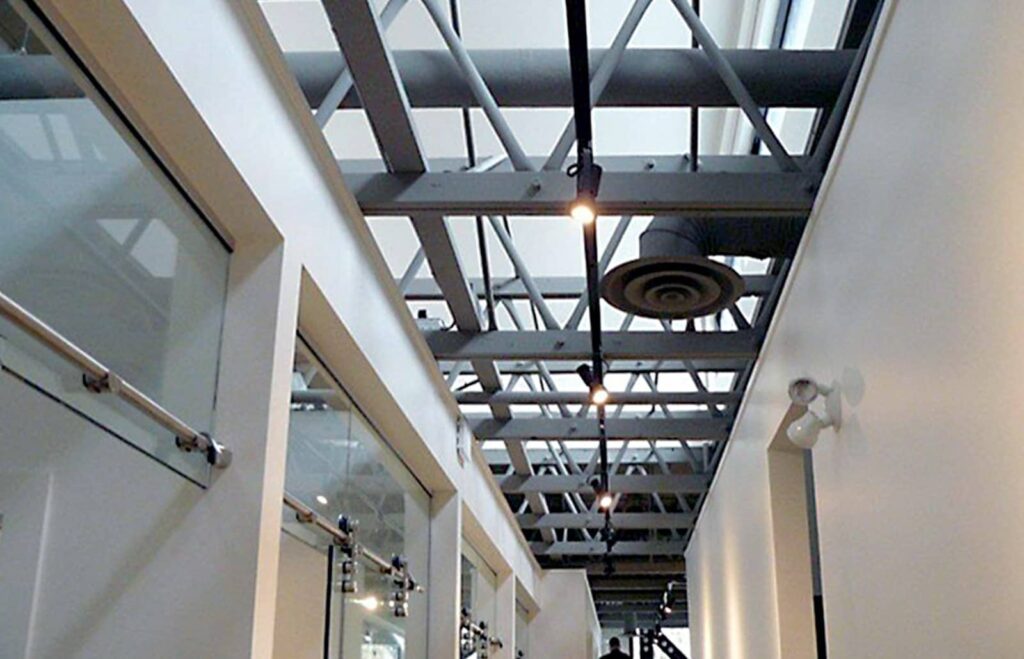 Worman also likes that the trusses are a straightforward product to work with. "They can be installed with conventional wood framing methods and don't require specialty trades," he said. "And they install quickly in the wider spacing."
Along with supplying the trusses, RedBuilt helped solve a problem caused by two large skylights — spanning a substantial portion of the trusses' length — where decking was not present to provide top-chord lateral restraint.
"To solve the skylight issue we provided metal cross-bracing to stabilize the trusses," says RedBuilt engineer Jeff Jack. "Our team designed a cross-brace system to ensure lateral stability of the trusses where decking was not directly applied."
At 23,200 square feet, the Richter building is about a block wide and three blocks deep. Construction began in October 2013 and wrapped up in December 2014. Residential tenants moved in that same month. Businesses in the commercial part of the building include a veterinarian clinic and a spa/salon, as well as physical therapy and real estate offices.

In the end, Worman said exposed trusses became a selling feature for commercial tenants who like the non-traditional warehouse look. In fact, some tenants added their own touches to the truss design. Owners of the salon stained the truss chords and painted the steel webs black for added drama.
On the residential side of the building, the Worman team painted the trusses above the kitchen white to create a clean, modern look that tied in with the European kitchen design. For added aesthetic appeal on the roof of the commercial section, they included exposed 2×6 decking over the trusses to give the appearance of old-fashioned tongue-and-groove aesthetic.
Though only time will tell what projects Worman Resources will take on next, one thing remains certain: When they want exposed trusses to add a stylish, non-traditional element to their buildings, they can count on RedBuilt to deliver.
CREDITS
DEVELOPER
Worman Resources Inc.
Kelowna, British Columbia, Canada
ENGINEER
Affiliated Engineering Group
Kelowna, British Columbia, Canada
X-Shaped School Creates Unique Framing Challenges
The architectural vision provided by Hacker Architects created a unique-shaped building set together with complex angles. Wood was selected for its economical benefits, along with the desire for aesthetic appeal with exposed material.
VIEW MORE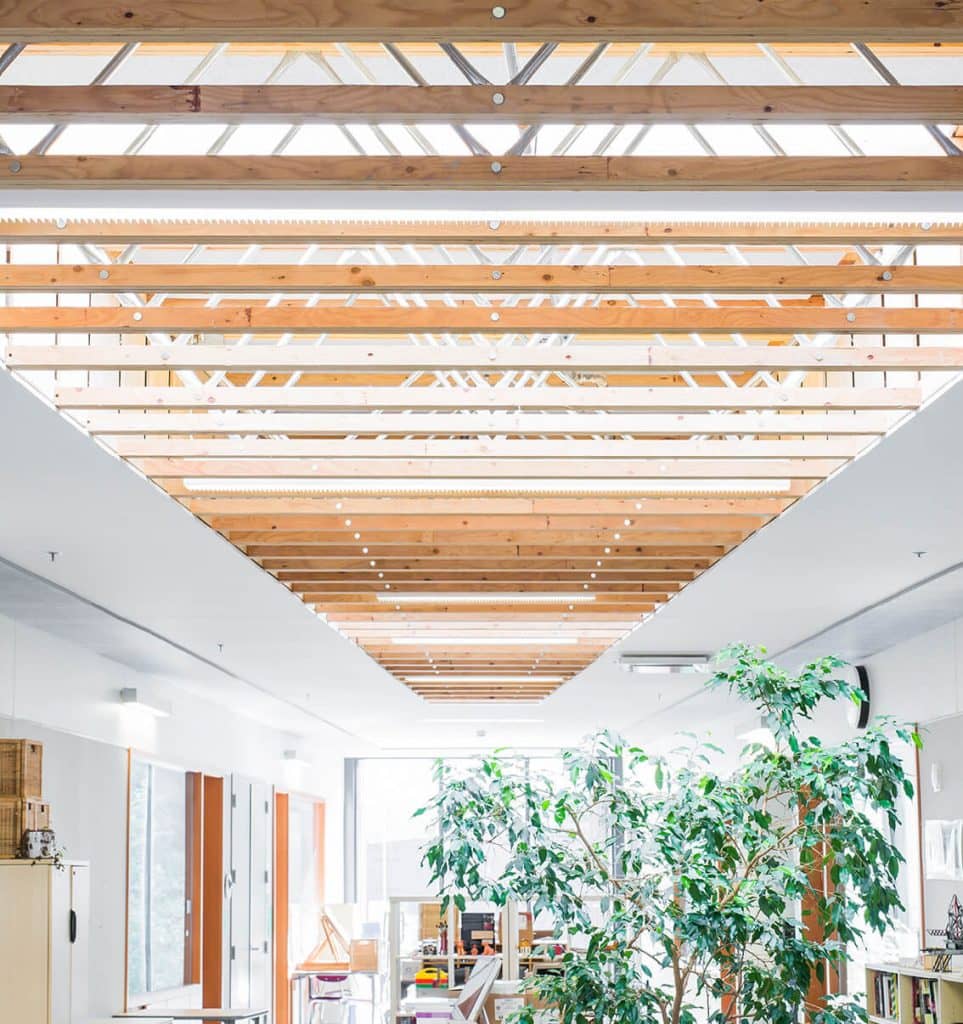 How RedBuilt roof trusses helped support Utah businesses
Read about how RedBuilt roof trusses and structural reveals were used in 106 Exchange, a 60,442 square foot professional office space that now stands in South Jordan, Utah. Through hands-on, knowledgeable customer care, as well as close collaboration, a space was created true to the architects' vision using RedBuilt roof trusses.
VIEW MORE