Open-Web Trusses,
optimize over compromise.
Pound for pound, RedBuilt Open-Web trusses are among the strongest structural members produced. Often a solution for exceptionally long spans, they're still a powerful choice for all types of commercial applications.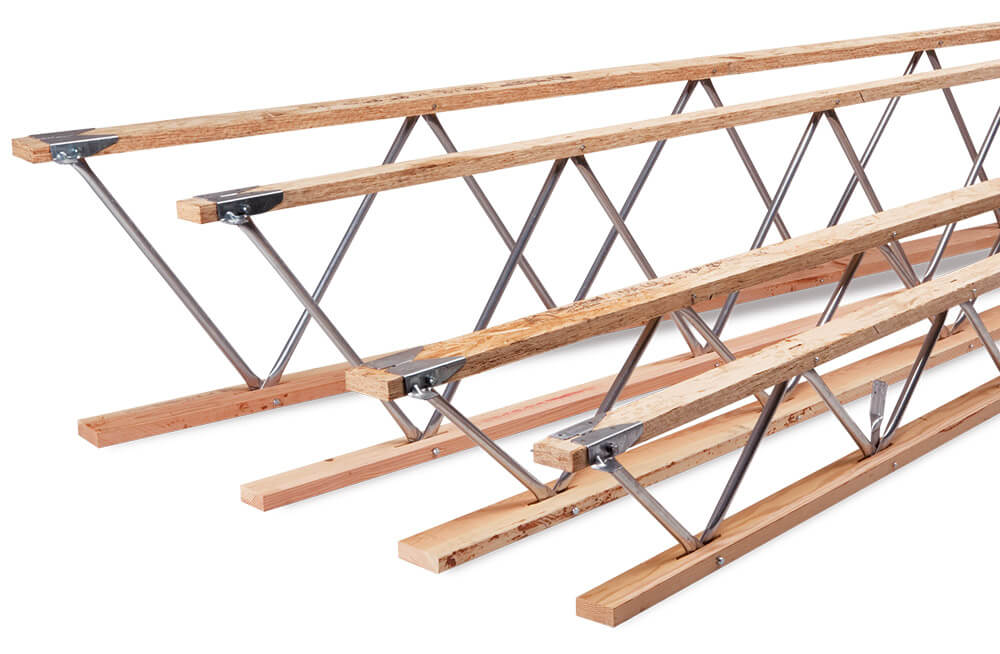 RedBuilt Open-Web Trusses offer a variety of solutions for a broad range of challenges. Whether your project is for retail or office space, a school, multi-family apartments, condos, assisted living facilities, hotels and motels, warehouses, you name it, an open floor plan is often a primary requirement. These strong, light and highly customizable Open-Web Trusses add design flexibility for owners/developers to create market-specific and relevant spaces.
Available Profiles:


Parallel Chord


Tapered


Pitched


Radius Pitched
*Not available in Red-M, or Red-H


Bow String
*Not available in Red-M, or Red-H


Barrel
*Not available in Red-M, or Red-H


Pitched Top/Radius Bottom
*Not available in Red-M, or Red-H


Scissor


Compound Barrel
*Not available in Red-M, or Red-H


Lenticular
*Not available in Red-M, or Red-H
TOP & BOTTOM CHORDS
WEBS

(minimum yield of 45,000 psi per ASTM A500, Grade C)

WEIGHT
AVAILABLE DEPTHS

(at wall)

SPECIAL CONSIDERATIONS
Red-L™
1-1⁄2" x 3-1⁄2" flatwise

MSR lumber

1" and 1 1⁄8"

diam. tubular steel members varying in gauge and diameter according to requirements.

3.75 to 4.25 lbs/ft
14"– 50"

(Max. pitched ridge depth = 50")

Lightweight and efficient

Red-W™
1-1⁄2" x 4-3⁄4" flatwise

MSR lumber

1" and 1 1⁄8"

diam. tubular steel members varying in gauge and diameter according to requirements.

4.5 to 5.25 lbs/ft
14"– 50"

(Max. pitched ridge depth = 50")

A slightly heavier duty truss for mid-range spans

Red-S™
Double 1-1⁄2" x 2.3" edgewise

RedLam™ LVL

1 1⁄4" and 1 1/2"

diam. tubular steel members varying in gauge and diameter according to requirements.

4.75 to 5.75 lbs/ft
16"– 60"

(Max. pitched ridge depth = 84")

Offers strength, efficiency and economy for large open areas such as in schools, offices and warehouses

Red-M™
Double 1-1⁄2" x 3-1⁄2" edgewise

MSR lumber

Up to 2"

diam. tubular steel members varying in gauge and diameter according to requirements.

8 to 9 lbs/ft
20"– 60"

(Max. pitched ridge depth = 72")

Can easily accommodate heavy loads and long spans—ideal for offices, warehouses, auditoriums and shopping centers

Red-H™
Double 1-1⁄2" x 5-1⁄2" edgewise

MSR lumber (Upgrade may be available as RedLam LVL)

Up to 2"

diam. tubular steel members varying in gauge and diameter according to requirements.

10 to 12 lbs/ft
24"– 72"

(Max. pitched ridge depth = 114")

Can easily accommodate heavy loads and long spans—ideal for offices, warehouses, auditoriums and shopping centers